Hat 5 – The Daredevil

February 2010 – November 2010 (Lost)
Libya, Algeria, Afghanistan, Yemen, Eritrea, North Korea… 2010 was the year of backpacking dangerously, and Hat 5 was on my head for almost all of it. From my home in Liverpool it came all the way across Eurasia (via a few leftover African nations) without a hitch. It's kinda amazing that it got so far – across the hottest deserts and the highest mountain ranges, over pirate-infested waters and down into the dingiest dives SE Asia had to offer. I strode through the "Axis of Evil" and so much more with only Hat 5 to protect me.
It's a shame then that Hat 5 was lost in such mundane circumstances. I was in Bali taking a motorbike taxi back to my friend Neil's place just north of Kuta. So Hat 5 wouldn't blow off my head I put it between me and the driver, but when we arrived the hat was nowhere to be found. We headed back the way we came in case it was laying at the side of the road, but nada. Hat 5 was nowhere to be found. Oh well. At least I have this awesome video in memoriam.
Hat 6 – The Swashbuckler
December 2010 – April 2012 (Stolen)
No time to lose, I headed off to country number 183, East Timor, sans hat. Mandy, being the darling that she is, bought Hat 6 in Melbourne and had it sent to my friend Neil in Bali – I would have to swing back that way to get the Pelni ferry to West Papua anyway. Hat 6 was a good'un. It was with me all around the Pacific Islands, making it to The Solomons, Vanuatu, Fiji, Tuvalu, Kiribati, Samoa, Tonga, New Zealand and even Nauru.
In the April of 2012 I had just 6 countries left to visit – Micronesia, Palau, Sri Lanka, Maldives, Seychelles and South Sudan. In a windfall of lucky circumstances involving a very long bus journey and some of the most dangerous snakes and spiders in the world, I managed to get myself on a cargo ship from Brisbane to Taiwan.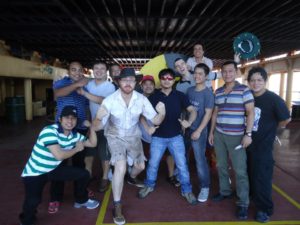 On the way we crossed the equator and I was informed that with all my 0° latitude-crossing shenanigans thus far on the journey (not just in the Pacific and Indian Oceans but several times during the one trip from Gabon to the Atlantic island nation Saõ Tomé and back) I had apparently seriously pissed off King Neptune by monkeying about on the high seas without his "permission". Anyone who has read Homer's Odyssey will know why that's not a smart thing to do. It was time to placate the God of the Sea before he was Poseidon self in anger. See what I did there? Poseidon self?! Like beside himself? Oh never mind.
So we did the traditional crossing-the-equator ceremony. The oldest man on the ship – in this case the boson – dressed up as King Neptune (with the aid of a mop wig, a bedsheet toga and a broomstick-and-tinfoil trident) and I, together with a couple of deck hands, were each given an old oil drum filled with seawater to clamber into.
Once in the drums, the ceremony began. I was soaked with a deck hose, had eggs thrown at me, was painted half green and half red (with deck paint – Christ that was a bitch to get off) and had my head shaved by the captain (the shortest it has been since 1999).
After that I was forced to drink the foulest alcoholic concoction of all time (vodka, whiskey, rum, seawater, raw egg, tomato juice and Worcestershire sauce… ygads!). It was frikkin' hilarious.
That evening we sung karaoke. I did my Sid Vicious impression with My Way. I was told by one of the Filipino crew that I shouldn't sing My Way badly, because "you'll die". His words not mine.
It wasn't until I reached Taiwan and looked up "The My Way Killings of The Philippines" that I found out this wasn't an urban legend… people had been killed in The Philippines in a string of otherwise unrelated murders after singing My Way badly. Seriously! Look it up!!
So now I was in Taiwan and looking to tick Micronesia and Palau off the list. There was a ship leaving in the next couple of days from the southern port town of Kaohsiung. I had permission from the shipping company and the master of the vessel, but at the last minute the ship owners were like "WTF?!" and I had to do the fastest talking of my life in order to persuade them to let me on board. But persuade them I did. I can be very persuasive sometimes – generally speaking once a century, when the moon is in the Eighth House of Aquarius.
The night before the departure I was out in Kaohsiung and I met a group of backpackers who recognised me off the telly. They asked if they could get a photo with me, which of course I was up for (mo' photons no problems), but while photos were being taken, somebody grabbed Hat 6 off my head and (I assumed) put it on theirs.
Only they didn't. They just walked out with it and disappeared into the night.
Seriously.
The stream of expletives that issued forth from my gob would make a Geordie docker blush. All this way… 195 countries without flying… and somebody had the gall to steal my bleedin' 'at.
I would like to point out that whoever it was, he was not Taiwanese. He was almost definitely American. Like seriously, screw that guy. I hope he put my had on his head and it did to him what Khal Drogo did to Viserys Targaryen.
Hat 7 – The Folly
May 2012 – May 2012 (Lost)
Okay. I have a confession to make. Mandy, if you're reading this, I lost Hat 7. The one you sent to Hong Kong. It's been my filthy little secret for years, but now, four years on, I must atone for my sins.
You may have noticed that most of my hats last around 18 months, one way or another. Hat 7 lasted less than a week.
So there I was in Taiwan, leaving the next day on a cargo ship and absolutely no way of getting my hands on a new hat before we left. So far the only country in the world I had visited without my hat was East Timor. Now I would have to add not just Micronesia and Palau to that list, but also Okinawa, the Northern Mariana Islands and Guam.
Now as I wrote earlier I need my hat. I don't just wear it because I like hats (although I do like hats, one of the many reasons I fell in love with Madagascar). Without my hat on my head I get sunburnt to hell. And that's exactly what happened to me after a day mooching around the island of Yap in Micronesia.
The next day we arrived in Palau.
As the sun was totally getting the better of me I bought one of them floppy hats that people wear for some reason even though they look utter bobbins.
One thing was for sure: I desperately needed my trusty old Akruba back. Once again, Mandy went out to Melbourne city centre and purchased me a new one. This would be Hat 7, the hat that would be with me to the end (of the Odyssey Expedition). Or so I thought.
I arrived in Hong Kong on Saturday May 5 2012. After sorting out my passport shenanigans I headed over to meet my CouchSurf host Michael, a stand-up comedian from America. The hat was waiting for me at the post office. We went in together and, happily, my bonce was once again united with my erstwhile head-furniture. Here is some rare footage of Hat 7 on my head:
A couple of days later I was invited to go out with a few of Michael's mates "after work". Of course it descended into drunken anarchy as nights like this often do.
I awoke in the morning splayed out all over the floor of Michael's flat (I have no idea how I got back, or got in!). Whenever I awake in such circumstances, groggy and dry-mouthed, there is a set routine along the lines of WHERE ARE MY GLASSES?!?!? Oh they're here. WHERE'S MY BAG?!!?? Oh it's there. WHERE'S ME HAT? Oh it's……..
Bollocks.
Hat 8 – The Record Breaker

April 2012 – July 2014 (Gifted)
So then. It was time to get a new hat. More specifically, it was time to get a new hat without Mandy finding out I lost the last one on a drunken rampage through the Special Administrative Region of Hong Kong. So for the first time, I ordered a new hat online (isn't the twenty-first century just magic?). Now, predicting where I'm going to be and when is not an exact science at the best of times, but no ships out of Hong Kong were happy to take me to Sri Lanka, country 198 of 201 of the Odyssey Expedition.
So I had the hat sent to the DHL depot in Singapore.
Funnily enough, I had travelled from Singapore to Hong Kong ten years earlier. Now it was time to do that journey in reverse, but (horrifyingly enough) without my hat.
So off I jolly well popped, through Guangzhou and Kunming, down through Laos and a night out in Backpacker Ground Zero: Bangkok.
Then it was a long bus journey down through the rest of Thailand, Malaysia and finally disembarking in ol' Singapore. While I was battling bus schedules, my new hat was winging its way over from Australia and was waiting to greet me in Lion City. I felt complete again.
Hat 8 was one of the greats. It was with me through the good times and the bad. It travelled with me to Sri Lanka…
…it gave me something to cry into when Mandy and I decided to call it a day at the end of August 2012 (maybe she found out about Hat 7), it accompanied me on my mad rush to Kerala in India and then across the Indian Ocean to The Maldives and The Seychelles.
Hat 8 saw Obama elected for a second time while I was in Reunion and witnessed my name appearing on the 'Drink Your Way Around The World' plaque in the Keg and Marlin pub in Mauritius (one of my greatest achievements).
Hat 8 kept the sun out of my eyes and me looking cool as I thundered through East Africa for a second time: from Durban in South Africa to Kampala in Uganda.
And then, on that day of days, it joined me as I announced to the world that I had made it to South Sudan and therefore completed The Odyssey Expedition.
Hell. Yeah.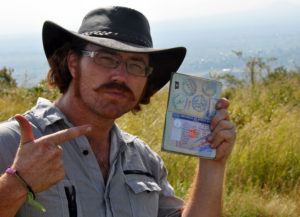 It also came with me to the top of the Great Pyramid of Egypt.
And featured heavily on my return to Liverpool.
I wore it on the BBC Breakfast couch and to the Telegraph adventure show.
I took it to Russia with me, but it was just too damn cold to wear the thing, so I wore a big warm hat instead.
Hat 8 was the hat I wore for TEDActive, Thinking Digital, TEDxBrixton, TEDxLIverpoolYouth, TEDxBathUniversity, TEDxSheffield…
It was the hat I was wearing when I met Michael Palin.
And when I was invited over to the New York to appear alongside Charlie Rose and Gayle King on CBS This Morning, guess who came with?
In fact, it was the hat I wore all through 2013… including while I was on SOS Island…
And the eventual winning of SOS Island…
And the presentation of my Guinness World Record certificate…
And then I took it to Panama with me and wore it all around the Mayan sites of Central America….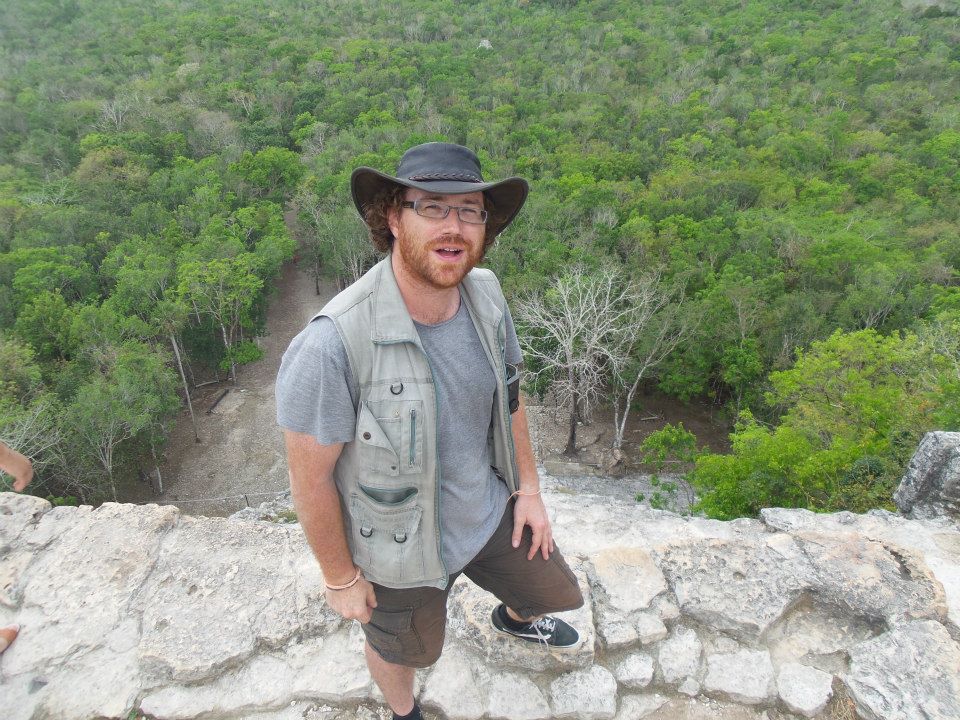 But, much like Hat 4 (the last great hat) in the hot tropical heat of Panama it eventually got wet, dried and shrank.
When I was home in Liverpool for a week or so back in 2014 I wrote to bushgear.co.uk who kindly supplied me with a brand new Akubra: Hat 9! Thanks bushgear.co.uk! You're awesome!!
Sadly, Casey (my then-girlfriend) would not be returning with me to Jinja Island. She saw me off from Heathrow airport and as a parting gift I plonked Hat 8 on her head. It fit perfectly. Nawww…
Hat 9 – The Jinjista
July 2014 – January 2016 (Retired)
Unlike its eight predecessors, Hat 9 never got to go on any grand adventures in exotic locales, but then again, I guess Jinja Island is pretty damn exotic.
Hat 9 did well for the first year, but then in June 2015 I went to the awesomely-named Wizard's Beach on Bastimentos Island for a party.
I was standing waist-deep in the water with my hat on and a beer in my hand chatting to a girl when something grabbed me and pulled me out to sea… it was a riptide. I survived but my hat got soaked, and like 4 and 8 before it, it eventually shrank. There's not much you can do about it. By the end of 2015 wearing it felt like the golden headband that Monkey had to wear which got tighter when he was naughty.
However, I had to wear it for a few audition interviews over Skype – my stupid hat is part of my public persona now. But eventually pulling it down over my XXL-sized head caused the front brim to rip. And that was it, really.
It now hangs up in the kitchen of Casa Jinja, a little forlorn for it didn't ever get to live up to the kind of adventures of its illustrious forebears, but thems the breaks kiddo, at least I didn't lose you at a festival.
Hat 10 – The Big Break…?
January 2016 – Present
Which brings me to this one.
Lindsey brought Hat 10 with her when she came to stay on the island at the end of January 2016.
I wore Hat 10 when I toured around the Bocas Archipelago looking for frogs with Paul the photographer for Geo magazine in April.
I also wore Hat 10 in Cyprus when I was doing that presenting gig for Aegean Airlines.
And it'll be with me for my 13th Glastonbury festival this summer (look out for the Flaggy McFlagface flag).
I don't know what the future holds for Hat 10, but I hope it's the hat I wear to launch my first two books: Man of the World and Food: A Global Odyssey. I hope I get this damn visa for the USA so I can drive around the States on a promotional tour – with Hat 10 as my trusty companion.
There's plenty more adventures to be had, and (I'm sure) plenty more hats that'll come and go through the years, but one thing is for sure: as long as I'm still able, I'll never hang my trusty Akubra up for good. There's such a lot of world to see…